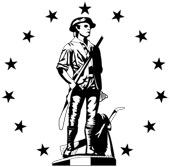 Patriot Builders, LP
Patriot Builders, LP is primarily an Austin based custom home builder and real estate development company. We are proudly serving the Austin, Pflugerville, Round Rock, Georgetown, Cedar Park and Lakeway communities.
Business Philosophy
Our philosophy in the building business is to build your home with integrity while utilizing quality, skilled personnel. We operate from the 'Old School' ways of doing business where "Our word is our bond" and "My handshake to you is our contract." Quality business transactions and contracts, when you get right down to it, are only as good as the people who honor it. This is how we operate our business here at Patriot Builders.
People
Robert 'Matt" Worrall is the proud owner and primary construction superintendent of Patriot Builders, LP. He has over 10 years in real estate development and the building business. He is a 1992 Distinguished Military Graduate of North Georgia College. He served our country as a military intelligence officer. He also is an avid real estate investor with a decade of experience in owning and managing rental properties.
A note on our skilled craftsman: we use ALL of the same subcontractors in our own personal houses as we do in your homes! We have assembled over the years, a fantastic team of professionals. We are like family and that is how we will treat you as well.